A Strange Mutiny in Russia. It Is a Draw So Far
Prigozhin could not surrender his private army to the Ministry
of Defense and went for an open mutiny, but stopped it.
If Putin really agreed to remove the top military officials,
it meant that he himself would have to flee Russia soon.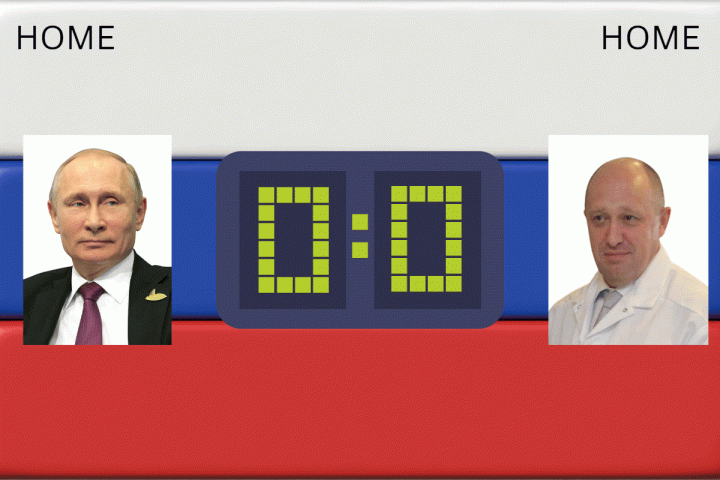 Collage by author from works of Government of the Russian Federation,
CC BY 3.0
and Kremlin.ru,
CC BY 4.0
via Wikimedia Commons.
I
have written
before that the main internal newsmaker for Russia is Mr. Putin's former «cook», oligarch and owner of private mercenary company "Wagner" Mr.
Prigozhin
, and the external one is the Ukrainian Armed Forces. It is very possible that these two together will give the world (including the Russians) the long-awaited surprise in the near future - withdrawal or even getaway of Mr. Putin from power in Russia.
……….
"Made in Russia".
Mr. Prigozhin is a typical Russian product. Since the 1990s Russia has been creating an image of its national hero - a tough, tenacious, fair, successful and rich "businessman" with a criminal past who gets along well with elite, special services, and criminals. Mr. Prigozhin
corresponds
100% to that ideal of Russia, although I don't think the Russian elite will ever accept him because of his criminal past.
And Mr. Prigozhin also has a personal army of 25-50 thousand fighters with guns, planes and tanks - the
Wagner Group
. Mr. Putin
took advantage
of this private military company in Africa, Ukraine, Syria, Venezuela wherever he did not want to officially use his army.
Now Mr. Prigozhin has gained strength and was deploying his mercenaries against Putin's Russia.
……….
What happened?
After capturing of the small town of Bakhmut in eastern Ukraine and
withdrawing
his mercenaries from the town at the end of May, Mr. Prigozhin formally became the hero who achieved at least some success in the war. He and his fighters captured Bakhmut after 10 months of brutal fighting, not the Russian Armed Forces. Mr. Prigozhin has long and regularly criticized the Russian Ministry of Defense and its leaders - the Minister of Defence S. Shoygu and Army's Chief of the General Staff V. Gerasimov - for their alleged incompetence and for not giving his soldiers enough weapons and ammunition. And so, in early June Mr. Shoygu
has issued
an order that all paramilitary forces should sign contracts and got subordinated to the Russian Ministry of Defense. President Putin publicly approved this order on June 13. Mr. Prigozhin publicly refused to comply the order, the deadline of which was on June 30.
The fact is that Mr. Prigozhin cannot be without his army because of the direct threat to his life. He
has insulted
much rich Russian elites, the top of military and secret services, and Mr. Putin himself. He may have been lately mostly with his troops near Bakhmut because it was much safer for him to be there than in Moscow or his home city of St. Petersburg.
On June 23, Mr. Prigozhin
announced
an armed conflict with the Russian Ministry of Defense, following an alleged missile strike on his rear camp, which killed he said "many Wagnerites". Mr. Prigozhin's mercenaries quickly took over southern military headquarters in the city of Rostov-on-Don, and on June 24, Mr. Prigozhin had
announced
the march of his 25,000-strong army to Moscow. Mr. Putin's name was not mentioned.
President Putin
called
the intention of Wagner group «a betrayal» and ordered to neutralize those who organized the mutiny, also without mentioning Mr. Prigozhin by name. In response, Mr. Prigozhin
called
his march to Russia's capital a «justice march». Russian FSB
has opened
a criminal case against Mr. Prigozhin for incitement to armed rebellion.
No one from Russian elite, army or special services officially supported the revolt. Ordinary people
rushed
to buy airline tickets to Kazakhstan, Turkey, Armenia, and the prices immediately jumped up several times.
Meanwhile, Mr. Prigozhin has really moved his fighters to Moscow. ISW
reports
that on the way «the Wagner forces may have shot down up to three Mi-8 MTPR electronic warfare helicopters, one Mi-8 helicopter, one Ka-52 helicopter, one Mi-35 helicopter, one Mi-28 helicopter, and one An-26/Il-28 transport aircraft, resulting in the deaths of at least 13 pilots and airmen.»
……….
An unexpectedly quick stop of the conflict.
However, Mr. Prigozhin stopped his troops before they reached Moscow about 200 miles away. It seems that Belarusian President A. Lukashenko persuaded him «not to shed the Russian blood». The Kremlin
announced
that the deal was agreed under which Mr. Prigozhin would travel to Belarus without facing criminal charges in Russia; some portion of Wagner Group fighters will sign contracts with the Russian Ministry of Defense; and no Wagner personnel will be charged for their involvement in an armed rebellion. Kremlin spokesperson D. Peskov
confirmed
that Russian authorities will drop the criminal case against Mr. Prigozhin. No further details (how or when anything will be done) were provided.
Well, we'll see.
……….
What did the mutiny show?
So far, it is clear that Mr. Putin and Mr. Prigozhin have played a draw - neither side was willing (or able?) to go to the end. It does not matter that Mr. Prigozhin did not (yet) have the strength to take over Moscow. What matters is that Mr. Putin, too, did not have the strength to punish the insurgent and had to start negotiating through Mr. Lukashenko. Mr. Prigozhin's demarche showed Mr. Putin's weakness and Mr. Prigozhin's growing strength. Only one dictator can be in Russia.
In addition, Russia seems to be utterly defenseless: all the internal security forces that Mr. Putin has been building for years have proven to be useless — neither Russian National Guard, special police (OMON) or special rapid response (SOBR) forces have
engaged
in a battle with the rebels. And the Russian army is busy in Ukraine.
It is interesting that Mr. Prigozhin's image has also suffered - many milbloggers and ultra-patriots
expressed
their dissatisfaction with the final agreement and the stopping of the "march of justice" to Moscow.
……….
How will it end?
It is absolutely unclear so far what will happen to Mr. Prigozhin and his mercenaries. Time will show. However, yesterday there were also rumors circulating in Russian-Ukrainian part of Internet that Mr. Putin had promised to Mr. Prigozhin via Mr. Lukashenko to remove S. Shoigu and V. Gerasimov from their positions. Theoretically, if there was such an agreement, it should be implemented soon, and it means that the great tactician Putin lost, while his former «cook» won and could take at least the position of the Minister of Defence.
However, one thing is absolutely clear - the throne under Mr. Putin is wobbling and the second point of «no return» has been successfully passed. The first one has been passed by Russia on February 24, 2022.