Hopeless Ukraine (part 3)
A lesson of the Orange Revolution: national leaders are normal people and they don't necessarily know what the country needs, but they always pretend they do. Don't make idols of them.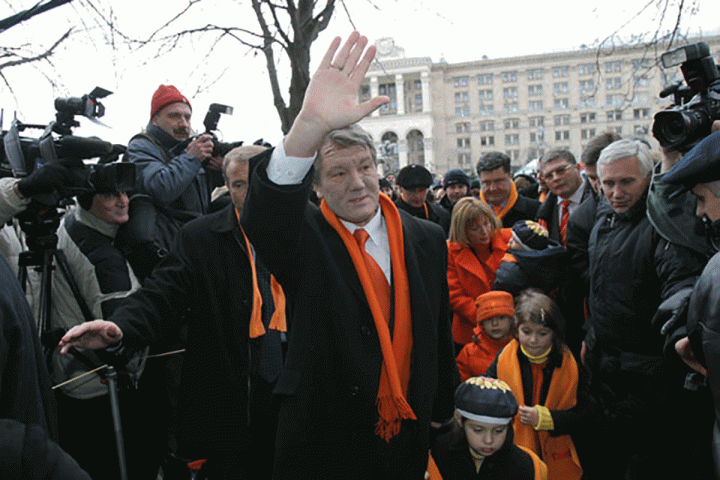 Viktor Yushchenko in 2004.
U
kraine has somehow stabilized the economy and after 2000 the country
enjoyed
steady real economic growth averaging about seven percent annually for almost a decade due to 50% growth of exports between 2000 and 2008 (metals, metallurgy, engineering, chemicals, and food. Between 2001 and 2008, metals and chemicals prices boomed because of fast international economic growth, while the price of natural gas imported from Russia remained relatively low.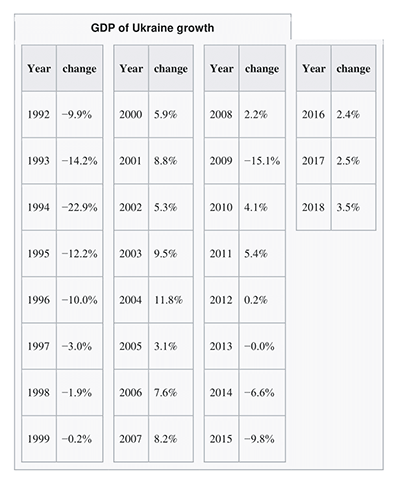 However, most of money earned by Ukrainians was traditionally pocketed by Ukrainian authorities, and the people did not live better. On the contrary, the country kept on getting poorer and the Ukrainians began to rapidly degrade morally in 2000s - the authorities and power structures lied much and misappropriated large chunks of Ukraine (money, land, plants, mines, mass media, real estate). Ukrainian people closed their eyes to that.
Under Mr. Kuchma's second term of presidency (1999-2004) and on the trade in government positions imperceptibly flourished. Anyone could be appointed to almost any public office if he/she was willing to pay enough money for it. For example, Viktor Yanukovych, a former criminal with two criminal
convictions
was
appointed
to the post of Prime Minister of Ukraine by President Kuchma in 2002. For justice' sake it's needed to say that Mr. Yanukovych hasn't started from the scratch – before that he was appointed a governor of
Donetsk province
in 1997 by the same President Kuchma.
……….
T
he early 2000s were marked by an event that undermined President Kuchma's reputation - the disappearance and subsequent violent death of journalist
Georgiy Gongadze
. The case was louder than the probable murder of
Viacheslav Chornovil
.
The journalist wrote about corruption among the top officials in Ukraine and disappeared in early September 2000. Two months later his decapitated body was found in a forest 50 miles away from Kyiv. In the end of November 2000, the speaker of the Parliament
Oleksandr Moroz
publically
accused
President Kuchma of kidnapping and killing Mr. Gongadze, citing audio recordings made in Kuchma's office by one of his bodyguards.
There was a great national and international scandal. The authorities did not want to unravel the case and the Ukrainian people several times (2001, 2002)
came out
to the streets to call for President Kuchma's resignation, but the protests were eventually forcibly broken up by the police.
The investigation went on for many years and only after the Orange Revolution came some clarity. In March 2005 a former Minister of Internal Affairs Yuriy Kravchenko (the main witness in the case)
committed
suicide (official version) by two (!) shots to the head. In 2008-2013, four former senior police officers were sentenced to prison for the actual act of murder of Mr. Gongadze, however the investigations have failed to show who ordered the murder of the journalist.
This event has dramatically affected Ukraine's domestic and foreign policy, changing Ukraine's direction from Russia-oriented to the West. It also damaged much President Kuchma's career. Apparently, this was the reason why he hadn't run for president for a third time in 2004.
……….
I
n early 2000s, the "Donetsk" clan and its pro-Russian
Party of Regions
began to gain strength in Ukraine. Their representative
Viktor Yanukovych
became a Prime Minister of Ukraine in 2002 and his previous criminal
convictions
were formally expunged by then. The presidential election in October-November 2004 was the beginning of the Party of Regions and then-Prime Minister Viktor Yanukovych's rise to power.
His opponent was an opposition candidate, former head of the National Bank and ex-Prime Minister of Ukraine (1999-2001)
Viktor Yushchenko
. Even Vladimir Putin came to Kyiv in October 2004 to support Viktor Yanukovych with his authority and formally to
participate
in the celebration of 60th anniversary of Ukraine's liberation from Nazis.
……….
I
nitially, Mr. Yanukovych was declared the winner of the second round of elections, but this didn't match well to what people saw and heard at the polling stations. I went to
Maidan Nezalezhnosti
(a big square in the center of Kyiv, something like Times Square in NYC) on the election days' evening. There were a few hundred people there and everyone was talking about the same - the election was rigged, how Yanukovych could win if everyone they knew voted for Yushchenko, etc. For a few weeks from then, at least a few thousand of Ukrainians continuously rallied on Maidan, chanting "Yushchenko!" This protest is now known as the
Orange Revolution
.
The election process has stalled. President Kuchma went to Moscow to consult with Mr. Putin. President of Poland
Aleksander Kwaśniewski
came to Kyiv to help to resolve the crisis. Mr. Yushchenko went to Kuchma's residence several times for negotiations, being backed up by a crowd of people standing permanently on the main square of the country. They set up tents there. My office was close to Maidan and I used to let my employees go to rallies. We bought and brought food, drinks and medicine there. One day the protesters asked for condoms. I've been a little shoсked, but realized that the revolution was growing and multiplying without our help, so I've stopped the helping.
……….
T
he confrontation continued for a few weeks, but President Kuchma did not (or could not) disperse the protests by force. The main reason for that for sure was the neutral position of the army, secret services and police, which
agreed
not to shed blood. Many intelligence officers knew about Yanukovych's criminal records and did not want to work under him, so they directly warned Yushchenko's staff about the government's plans. And Supreme Court of Ukraine finally ordered a revote which took place at the end of December 2004.
Viktor Yushchenko was declared the winner. The people stood up for their candidate. It was a real victory and national celebration. I think it was the first time when Mr. Putin was really greatly offended by Ukrainians.

……….
H
owever, a great disappointment came soon after because of weak-willed personality of President Yushchenko (or possible collusion with outgoing President Kuchma).
Mr. Yushchenko received enormous popular support during the Orange Revolution, but was unwilling or unable to change anything in the country. It looked like he withdrew, traveling around Europe with lectures about the Orange Revolution, while Ukraine was still ruled by oligarchs and the police and courts kept on protecting the rich. The people's help was forgotten.
In September 2005 Mr. Yushchenko for some reason
announced
an amnesty for those convicted of vote rigging during the 2004 presidential elections. No any criminal election fraud charges have been filed against any officials of Administration of the President or Central Election Commission despite blatant election fraud. Ukrainians were perplexed.
That was a great mistake or betrayal. People (and especially the authorities) in any country do not completely understand why real justice should be the top priority. Every country must officially assess the actions of any of its citizens, and not for other countries, but for the rest of its people. In "independent" Ukraine the justice simply doesn't exist, which is why, in particular, the country is balancing (from my point of view) on the verge of collapse for many years.
As a result, the pendulum of Ukrainian politics swung back and Yushchenko's party "Our Ukraine" resoundingly
lost
the parliamentary elections in 2006. Party of Regions has taken a revenge and "Donetsk clan" guys got into the Parliament to rewrite the laws for their own benefit. A former (2004) Central Election Commission head - an alleged mastermind of election fraud Serhiy Kivalov - became the head of the Ukrainian Parliament's Judiciary Committee.
A lot of people in Western and Central Ukraine felt completely fooled.
……….
T
he Ukrainians were very much upset by Mr. Yushchenko's impotence as a President. My then-23 years old son actively participated in Orange Revolution in 2004 and then voted for Party of Regions in 2006. I pointed out at his inconsistency to him and he answered: "Maybe the bandits will put the country in some order."
Another time I asked a female colleague of mine who had spent a lot of time at Orange Revolution demonstrations: "Did you stand there for Yushchenko or against Yanukovych?" She was confused for a while, but eventually we agreed that everybody has been there "against Yanukovych".
That's it.
The Ukrainians actually got what they wanted. Mr. Yanukovych did not win then. The real goal of the Orange Revolution - restoration of fairness of the presidential election - was achieved. Mr. Yushchenko became a truly "people's president" and was supposed to know where to direct the country, but he didn't. As well as the people who brought him to the pinnacle of power. It was a great national and my personal disappointment.
I stopped voting since then. Mr. Yushchenko's government turned out to be impotent, Mr. Yanukovych's opposition was made up of bandits, the people understood nothing and stuck in between... I didn't want to be a part of the show.
……….
I
would like to cite here a piece from one The New York Times
article
of 2005 which shows perfectly how Ukraine looked like after the Orange Revolution:
"
If anyone wants to make any sense of what is happening to Ukraine one year after the Orange Revolution, then a walk past the Parliament building on Hrushevskoho Street in Kyiv could explain a lot.
When in session, the area resembles an open-air luxury car exhibition. All the latest four-wheel-drive models from BMW, Mercedes, Porsche and Lexus are parked on the sidewalks and in the streets. Most of the vehicles are black, with bulletproof materials installed beneath their sleek skins.
Their tinted windows are so thick and dark that no one can look inside to see the state-of-the-art GPS navigation consoles, the elaborate communications systems mounted on the dashboards and the plush leather upholstery. All have drivers, most of them dressed in black leather jackets. When asked who owned the cars, the drivers either refuse to answer or simply say, "A parliamentary deputy."
That may be surprising, in a country where salaries for members of Parliament range from 4,700 to 5,000 hryvnia, or $935 to $995, a month.
But then, this is Ukraine. Since the country won its independence in the collapse of the Soviet Union in 1991, Parliament has become dominated by the oligarchs - enormously wealthy industrial managers who have interests in steel, iron, coal, the media and soccer clubs.
"
……….
I
f you will take a walk past the Parliament building in Kyiv during parliamentary session now, you will see the same picture. Nothing has changed during 17 years. Hopeless Ukraine.
(to be continued)
-------------------------------------------------------
P.S. Dear Reader! I am very much interested in your opinion on the subject of this article. Please, write a comment or ask a question if you want to clarify something.
Yours,
Igor Chykalov