Hopeless Ukraine (part 5)
Authorities must know and respect the opinion of their people.
And the people must have that opinion and be able
to convey it to their authorities which is always hard.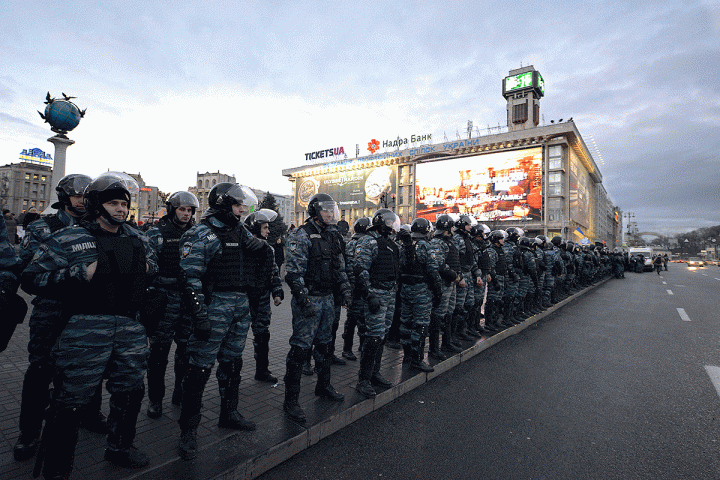 Riot police "Berkut" on Euromaidan in 2013.
Image by
Ivan Bandura
/
Wikimedia Commons
A
fter I left Ukraine, a lot of water has flown under the bridge. Miracle hasn't happened, the degradation of the country kept on, and the process took entirely ugly turn after a
former criminal
Viktor Yanukovych became a president of the country in 2010.
I no longer lived in Ukraine, but surely followed the events there. A lot of different things happened over the years so I would focus just on the main points of Ukraine's recent history in the following articles.
----------------------------------------------------------------
I
n 2010 "Donetsk" clan came to power in Ukraine - a former criminal and ex-Prime Minister
Viktor Yanukovych
became a President of the country. And he
won
the election quite fairly against the country's current Prime Minister and
Orange Revolution
heroine
Yulia Tymoshenko
who
complained
later about the election fraud. It was interesting to listen to the complaints of the country's Prime Minister about the election who had to organize and conduct that election.
Viktor Yushchenko
, the incumbent president of Ukraine and the "hope" of the Orange Revolution, received shameful 5% of the vote.

……….
I
've heard that Viktor Yanukovych had a criminal nickname "Boor" while being in prison. A fish rots from the head. President Yanukovych brought into executive branch of power a lot of similar guys with criminal inclinations from all over Ukraine and Donbass, in particular. As you can see below the most criminogenic regions of Ukraine in late 2000s were East (Donbass) and South (Crimea).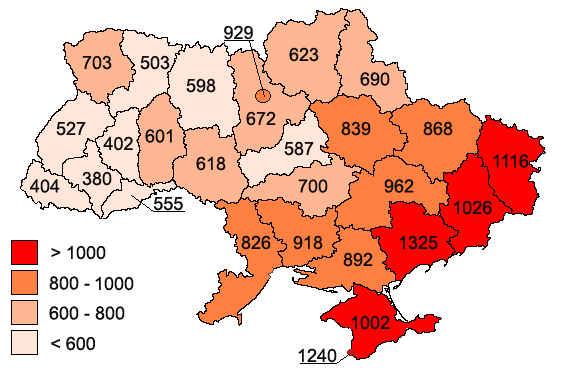 The number of registered crimes per Ukrainian Oblast in 2008.
Image by
tovel
/
Wikimedia Commons
Yanukovych's
Party of Regions
also
had
34% of seats in Parliament of Ukraine since 2007. There was an active redistribution of the material wealth of Ukraine into the pockets of the "Donetsk" clan guys, brazen pressure on business, raids on banks, and even later attempt to change the course of the country from Europe to Russia against the will of the people.
Parliamentary deputies from both ruling party and opposition got absolutely impudent. For example, a people's deputy from the opposition party
Batkivshchyna
Viktor Lozinsky together with several high-ranking friends
killed
a man while hunting in 2009. The investigation lasted 2 years, and Mr. Lozinsky was imprisoned for 3 years only because he was in the "opposition" and not in the Party of Regions. Then he was reelected again as head of territorial community in a province in 2020 (https://www.kyivpost.com/ukraine-politics/ex-lawmaker-convicted-of-murder-wins-office-in-local-elections.html).
……….
T
he political crisis in Ukraine kept on growing and deepening due to the war of the elites. The authorities (mainly the Party of Regions) were practically a gang of impudent robbers who were eager for more opportunities.
The opposition, Coalition associated with the Orange Revolution ("
Yulia Timoshenko's Bloc
" and "
Our Ukraine – People's Self Defence
" bloc) was basically a collection of more polite and gentle thieves.
As for me, the difference was not much but for some reason Ukrainians distinguished the nuances and tried to prove to each other that robbers (or thieves) were better. The elites openly feuded, called each other "bandits," and dragged their followers to their rallies. People stupidly participated in the events and then quarreled with their opponents not only on streets, but also in families (!!), i.e. the split of the country penetrated to the cellular level.
Ukrainians got clearly divide into "fools" and "scoundrels".
There were many "fools" (followers of different political parties), they sometimes jostled at different rallies and enjoyed throwing mud at each other in social media.
The "scoundrels" kept on "selling" their piece of Ukraine to the elites "by retail" - they participated in rallies of different political forces for money.
There were also those who wanted to be neither "fools", nor "scoundrels"who didn't want to participate in endless squabbles, but didn't want to sell Ukraine for money either. These people either left Ukraine (rarely, who had such an opportunity - me, for example) or withdrew into their shells and simply asked: "Please, no politics".
The Party of Regions needed to solve its problems by force, but without involving the police, and the guys named "titushky"
appeared
in Ukraine: the people of physical actions for money, not just peaceful passage in columns. They were mostly tough and brazen men - former criminals, athletes, members of organized crime groups, and just young people who wanted to make some money. "Titushky" took part in raids, staged provocations and fights at opponents' rallies, and intimidated activists and journalists. Rarely they also marched in columns at rallies to show to the country that the Party of Regions had "its people". These guys did not think about Ukraine, being a part of it, they just cynically made money.
This is how the country came up to another turning point in its history at the end of 2013.
..........
T
he European Union–Ukraine Association
Agreement
was initiated in late March 2012, i.e. Ukrainians were promised that the country was moving to the EU, but the Ukrainian government under the presidency of Mr. Yanukovych suddenly
suspended
preparations for signing it on November 21, 2013.
This decision led to massive protests that began that very night when up to 2,000 protesters gathered at Kyiv's central square –
Maidan Nezalezhnosti
again right as it was back in 2004 during the Orange Revolution. The protesters were mostly students. They pitched tents on Maidan and rallied peacefully for about a week, but this protest was violently
dispersed
by riot police force named "
Berkut
" on November 30, 2013 and that fact only added the energy to the protests.
Many Ukrainians were outraged by the cruel actions of the authorities, and on the same day (November 30, 2013) a new rally was held near Maidan with already around 5,000 participants. Ambassadors from some ten countries of the EU have also visited the new meeting. Protesters were shouting "Won't forgive", "Revolution" and started to form units of self-resistance. Approximately 10,000 protesters remained in the evening of November, 30th, with an estimated 10,000 more travelling from
Lviv
to Kyiv on that very night.
On November 30, 2013 opposition parties
Batkivshchyna
,
Udar
and
Svoboda
set up "Headquarters of National Resistance" throughout Ukraine.
..........
U
krainians just wanted closer ties with the EU and felt fooled by the President Yanukovych and his government. The students tried to peacefully show their point of view, but were firmly dispersed by a special police force and all that
brought
to Maidan up to 400,000–800,000 protesters on the next few weekends.
This protest later became known as
Euromaidan
.
……….
I
t is fair to say that this was again not exactly an all-Ukrainian protest.
South and East of Ukraine was the fiefdom of the Party of Regions, Ukrainians were divided much along West+Center and South+East lines and thought differently. According to December 2013
polls
between 45% and 50% of Ukrainians supported Euromaidan, while between 42% and 50% opposed it. The biggest support for the protest was in Kyiv (about 75%) and western Ukraine (more than 80%). Among Euromaidan protesters, 55% were from the west of the country, with 24% from central Ukraine and 21% from the east.
Maidan Nezalezhnosti became again the point of intersection of the interests of all political groups in Ukraine in November 2013 and later.
……….
M
r. Putin has actively
helped
Mr. Yanukovych to become president of Ukraine since the Orange Revolution (2004). Russians have seen the trend of Ukraine's movement to the West for a long time and have prudently
raised
the price of gas (the main import) for Ukraine from $234 to $430 per 1,000 cubic metres in January 2013.
Also in mid-August 2013 Russia unexpectedly tightened up its customs regulations on imports from Ukraine which caused considerable economic damage. Because of this, as well as due to its own stupidity, Ukraine found its economy in a very bad state in late 2013. The country had a poor
solvency
and Yanukovych's government appealed to the European Union for money. Russians also came to help and offered to buy Ukrainian Eurobonds for $15 billion and reduce the price of gas to $268 per 1,000 cubic metres. On December 11, 2013 then-Prime Minister of Ukraine, Mykola Azarov,
explained
to Ukrainians why the Russian proposal was better than the European one, but the protests in Kyiv continued.
In spite of that the presidents of Russia and Ukraine have
signed
Russian–Ukrainian Action Plan about the purchase of Ukrainian Eurobonds by Russia on December 17, 2013, and the first tranche of $3 billion did really arrive in Ukraine shortly thereafter. However, the terms of Action Plan were (at the suggestion of Russians) governed by British courts and Russia
was acquiring
the right to demand immediate repayment in the case of receiving by Ukraine financial assistance from Western financial institutions. It would be extremely difficult for Ukraine to avoid making the payment using new bailout money.
Thus, the first and the only installment occurred in late December 2013, while President Viktor Yanukovych was still in charge in Kyiv. Then Russia has halted its purchase of the never issued Eurobonds since the ousting of President Yanukovych on February 22, 2014. Russian natural gas discount was also
cancelled
in April 2014.
Since December 2015, Ukraine has refused to and hence de facto defaulted on the $3 billion debt payment to Russia that was a part of the Action Plan. On February 17, 2016 Russia
filed
a lawsuit against Ukraine at Her Majesty's High Court of Justice in England over this debt and the trial
lasted
until now.
Many Ukrainians
considered
this $3 billion to be Mr. Putin's bribe to Mr. Yanukovych for selling Ukraine's independence to Russians. Mr. Yanukovych was a president of the country and was able to sell Ukraine "by wholesale".
..........
U
krainians knew nothing of those economic intricacies and political games of their president, they simply tried to defend their European choice and did not want to deal with Russia. This was the main conflict that ignited the Euromaidan in late November 2013, which evolved into the
Dignity Revolution
in February 2014.
(to be continued)
-------------------------------------------------------------
P.S. Dear Reader! I am very much interested in your opinion on the subject of this article. Please, write a comment or ask a question if you want to clarify something.
Yours,
Igor Chykalov