Trump Recovers from COVID-19
Good news, bad news - who knows?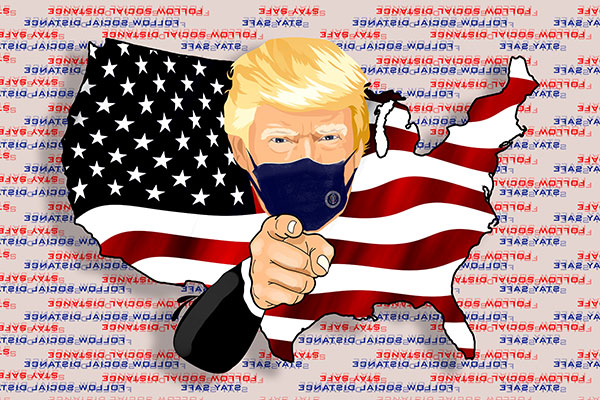 Image from
Pixabay.com
M
r. Trump clearly failed the debate on September, 29 judging by the result - after debate the lead of Joe Biden
has increased
to 13% and it would likely be increasing more if the next debate goes the same way. Something needs to be changed and maybe the best would be removing Mr. Trump from the rest of the debates. And really on October, 2 Mr. Trump was found to
have a coronavirus
and taken to the Walter Reed National Military Medical Center for treatment. However, on October, 5 the President
has already left
the hospital, stating he felt "better than 20 years ago". He seems eager to get back to the White House.
..........
M
r. Trump is in a critical age group and there is still a probability that he may die from COVID-19. That will be a kind of revenge of the coronavirus to a person
who has long called
the coronavirus a "hoax". In such case, Trump will be replaced by Vice President Pence until the election, the Republican Party will have to quickly nominate a new candidate, but the new ballots cannot be printed in time, so it would
fall to individual states
to decide how to proceed, and most have not set rules for this situation.
..........
H
owever, it is likely that America will not get rid of Mr. Trump easily. Every nation pays for making the mistakes, he recovers from COVID-19 and may be re-elected. But if not now, Trump supposedly resigns in 2024 and that is my concern. He will begin receiving a
presidential pension
which is now $219,200 per year. Mr. Trump in my opinion does not deserve a pension, but "The Former Presidents Act" exists, being adopted by the federal government back in 1958. Everything seems all right according to the democratic procedure, but I don't want to support Mr. Trump after his retirement, let him live on his billions. Unfortunately, I have to, and this is unfair from my subjective point of view, although legally correct. This is where the man-and-state conflict arises. Something is wrong either with me, or with the Constitution, or with the way the Constitution is applied.
Richard Nixon
has resigned
on August 9, 1974 and the presidential pension was paid to him until his death in 1994. It turns out that he was paid for 20 years for
Watergate
and "
Nixon shock
".
..........
I
t is very bad that the US and other countries do not have a mechanism for evaluating the performance of the president (and politicians in general) by citizens after resignation. That is why a lot of people go into politics despite the fact that the Democratic and Republican Parties stand in the way in the US. In the USSR it was the Communist Party of Soviet Union. In China it is Chinese Communist Party. Well, there's nothing you can do about that, but if you manage to get through, you can secure yourself for life.
Politics is a very profitable business because:
- you can do nothing and just improve (e.g., the welfare of the people) or fight (e.g., corruption), but not getting done with improving or fighting. There is no tangible measurement unit of political labor other than winning/losing a war. Maybe the only person who has achieved worldwide recognition in the field of peaceful national development was first Prime Minister of Singapore
Lee Kuan Yew
. In addition, the decisions of politicians can be evaluated only after years, and usually there are a lot of other coming problems and everything is forgotten;
- you cannot be held responsible for your promises and actions (we wanted to do better, but couldn't because of the opposition, circumstances, shortage of money, coronavirus, etc.);
- you can make good money (the
current base salary
for all rank-and-file members of the U.S. House and Senate is $174,000 per year plus benefits) and enjoy the attention of the media;
- you can even afford
not to pay your taxes
.
And the reward for all this irresponsible doing nothing is a good pension. That is all that Mr. Trump loves so much and it is not surprising that he has moved into politics from his
billion construction
, etc business. There are more money and opportunities in politics.
..........
H
owever, politicians are sometimes responsible for their activities. For example, ex-President of Brazil
Michel Temer
was charged for accepting bribes and arrested in 2019. Ukraine's ex-president
Viktor Yanukovych
found guilty of treason and sentenced in his absence to 13 years' jail over 2014 protests and Russian invasion. Often a kind of revolution is needed to hold the rulers to account like it happend to above-mentioned Viktor Yanukovych and
Muammar Gaddafi
in Libya in 2011.
Well, Gaddafi and Putin's regimes are difficult cases, but in democratic countries it would be good to vote 3-4 years after the president (or any politician with a lower rank) resigns and to raise his pension if the people are satisfied with his work, or to reduce it if they are not. I would insert that in the Constitution, but I am not asked, and my representatives in the US Congress do not need such change. And it turns out that those who want to change something cannot do it, and those who can - do not want to. There is no such practice in the world and it means that a lot of countries (not only authoritarian ones) live without feedback from their people. This is why almost all countries are moving in an unpredictable direction. Actually, the direction is quite predictable. Any system without feedback is not viable, which means that most of the existing countries will fall apart. The question for me is just when it happens.
..........
S
o Trump's coronavirus infection and his quick recovery from COVID-19 are not good or bad news. Every person is a tool for some kind of a task. Americans have to decide on the task that they are setting for their president. For that you need to answer the question - whether you personally like America as it is now and how the American elites - Democratic and Republican Party - have built it for you.
If you don't like it, then the goal is a rapid collapse of the United States and no one can do that better than Mr. Trump. A by-product of that is a risk of more or less intense armed conflict after the election, since Mr. Trump
is not going to recognize
the result in the case of Joe Biden's victory.
If you are more or less satisfied with everything in the country I want to inform you that the breakdown of the US will come anyway, but the process will just last longer. Too many conflicts
have been accumulated
in the country and no party knows what to do with them.
------------------------------------------------------------------------------
P.S. Dear Reader! I am very much interested in your opinion on the subject of this article. Please, write a comment or ask a question if you want to clarify something.
Yours,
Igor Chykalov